Guest Reviews for the
"Mt View" Tepees in Joseph, Oregon
Mountain View Tepee at Dusk
Prices are effective January 1, 2023,
subject to change without notice and
do not include 6.5% Lodging Tax.
Active-duty Military Discount
10% off for active-duty military personnel.
"We stayed two nights in one of the
tipis with our grandkids. The
swimminghole was a great attraction
for us. The tipi was a fun 'glamping'
experience. The thick foam mattress
for us was a delight and the foam
foldout chair-beds were comfy for the
kids. The cute electric stove was great
for cool mountain nights. Showers
and bathrooms were clean and well
maintained... Scott was very nice and
helpful and runs a very beautiful,
well-kept and welcoming business.
Fun for all."
Spirit Dancers Tepee
Spirit Warrior Lodge
The Hunter's Lodge
SLEEP IN A ROMANTIC
TEPEE AT THE "MT
VIEW" IN JOSEPH,
OREGON
Tepee Rental Prices, Stays & Amenities
More Images of the
Mountain View's Tepees
Tepee Images and Descriptions
If sleeping in a tepee is on your bucket
list, spend the night in a

pet-free

tepee
at the

Mountain View Motel & RV
Park
in Joseph Oregon. The seasonal
tepee rentals
(~June 1 to ~Oct 15)
are decorated with graphic designs
inspired by ancient Native American
petroglyphs for a romantic experience.
The tepee rentals are furnished with
carpet and comfy foam mattresses –
just bring your own sleeping bags,
bedding and pillows. Other tepee
amenities
include free WiFi, a heater
and lantern with flickering LED "flames,"
electrical outlets for charging phones
and tablets, a picnic table, shower
house with clean bathrooms,
remarkable mountain views and

star-
gazing
.
There are lots of fun things to do and
events & festivals
in Wallowa County
for vacationers, groups and families
including casual-dining, a market, art
galleries and specialty boutique shops
only two minutes away in Joseph,
Oregon.
On July 29, 2018 Hiedi Maxwell
posted the following on TripAdvisor:
Guests say the Mountain View Motel &
RV Park is a great place for tepee
camping in Eastern Oregon.
•
1 Queen + 2 Twin Sleeping
•
Pads, Maximum occupancy is 4
With graphic designs inspired by the
Newspaper Rock petroglyphs in
southeast Utah, the Spirits dance
beneath starry night skies above the
earth-bound humans.
•
1 Queen + 2 Twin Sleeping
•
Pads, Maximum occupancy is 4
The legendary Comanche Horse
Warriors, known as the Lords of the
South Plains, often sought guidance
and courage from visions in the Spirit
Warrior Lodge.
•
1 Queen + 2 Twin Sleeping
•
Pads, Maximum occupancy is 4
For more than 2,000 years, hunter-
gatherer peoples recorded their
hunting exploits by chipping
petroglyphs on canyon walls of the
Great Basin. These ancient petroglyphs
inspired the animal decorations on the
Hunter's Lodge.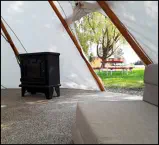 Tepee Rental Prices
for up to 4 Guests
Special Deals
Tepee Amenities and
Pet Policy
•
Scenic pastoral and mountain views
•
Tepees are surrounded by lush,
cooling lawns
•
Tepees accommodate up to four
guests on one queen-sized foam
mattress plus 2 twin-sized foam
lounge chair/sleeping pads (bring
your pillows)
•
Carpeting, electric heater and
lantern with flickering LED "flames"
•
Interior 110 Volt receptacles for
charging laptops and phones
•
Picnic table
•
Free Wifi
•
Shower house with clean
bathrooms – see shower house
images below
•
Nearby communal fire pits for wood
campfires when permitted (bring
your own wood and kindling)
•
Creek and swimming hole
•
Free ice for tepee rental guests
•
Coin-op laundry for tepee camping
guests
Walk-in tepee camping is just a
few steps from the driveway
where guests unload their gear
then remove their vehicle to a
nearby parking area.
Food and drink (other than
water) are not allowed in the
tepees to avoid attracting
unwanted critters and/or bugs.
And for your safety, please don't
smoke in the tepees.
The Mountain View RV Park
and Tepees are Pet-Free

How do I reserve a Tepee at the
Mountain View RV Park?
Mountain View Motel & RV Park
83450 Joseph Hwy, Joseph, Oregon 97846
Lat: 45.38120, Lon: -117.23067
Reservations are made the traditional
way by speaking directly with a friendly,
knowledgeable person at the front desk.
Images, Descriptions,
Prices & Amenities
Images of the Clean Bathrooms for
Tepee Campers in the RV Park's
Shower House
WOMEN's spotlessly clean bathroom in the
Mountain View RV Park's shower house.
MEN's clean bathroom in the Mountain
View RV Park's shower house.
Book Direct at 541-432-2982
during office hours, 9:00 AM to 9:00 PM
OVERALL TEPEE CAMPING
RATING
Tepees Minimum / Maximum Stays
Summer:
June 1 to Oct 15.
2) Night minimum / (4) Night maximum
Chief Joseph Days:
Last weekend in July
(3) Night minimum / (4) Night maximum
OFFICE HOURS:
9:00 AM to 9:00 PM, 7 Days
CHECK IN:
after 2:00 PM
CHECK OUT:
before 11:00 AM
Copyright 2023. All rights reserved. Web Site
designed & maintained by: Scott Hathorn,
Chuck Garrett and Estar Holmes